Voluntary Society - Conditioning - Conspiracy
Aaron Russo and Nick Rockfeller
On August 24, 2007, America lost a great human being and a fearless champion of freedom. Aaron Russo is remembered as an entertainment businessman, film maker, Libertarian political figure, and proponent of tax and monetary reform. He was best known in political circles for his documentary movie, America; Freedom to Fascism, which is a clarion call to action against the U.S. Federal Reserve System and the Income Tax. He was a member of Freedom Force and recipient of the Freedom Force Champion-of-Freedom Award.
A provocative insight into Aaron's personal motivation in the political arena was provided in a video interview conducted on January 29, 2001 by Alex Jones. In this interview, Aaron explains how Nicholas Rockefeller attempted to convince him around October 2000 to abandon his pro-freedom ideas and join with the ruling elite. He told Russo about the plan to microchip (RFID tag) the entire population to control them and reduce their population. Eleven months before 9/11, he predicted "an event that will allow the U.S. to invade Afghanistan and Iraq"; and laughed about the coming "War on Terror" that would be stage-managed to frighten Americans into giving up their freedom in exchange for security.
Rockefeller invited Aaron into the Council on Foreign Relations, the exclusive group that rules America from behind the scenes. When Russo objected to the loss of freedom for the common man, Rockefeller replied: "What do you care about them? They mean nothing to you. Look out for yourself and your family." When Aaron did not agree, their friendship ended.
Watch the 15 minute interview here. Watch the 1 hour 9 minute video here. If it stalls on Google, select the Download button to the right of the movie to download the 196.2 MB MP4 file. A Quicktime (.MOV) version is here (1.3 MB) if you have QuickTime or here (196.2 MB) if not. The 196.2 MB MP4 version is here. The longer version provides some history and context that makes the short version even more credible. Read Prision Planet synopsis here.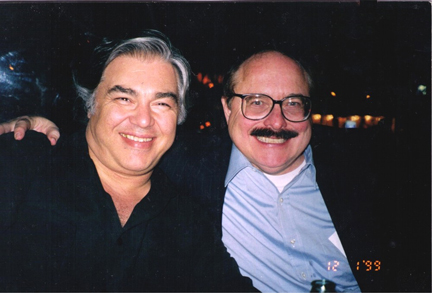 Aaron Russo and Nick Rockefeller in December of 1999.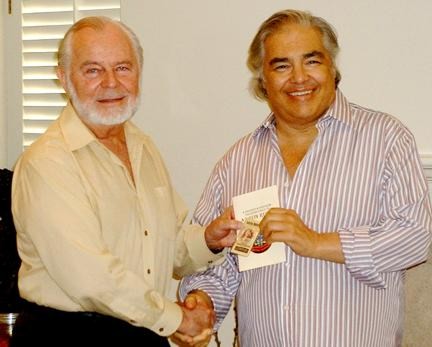 G. Edward Griffin (email) presents a silver Libertatem to Aaron Russo in recognition of his Champion-of-Freedom Award and appointment to the Freedom Force Hall of Honor, November 8, 2006.
You may also contact us via phone at 800-595-6596 or via mail at 3541 Old Conejo Road #109, Newbury Park, CA 91320.
---
| Home | Conditioning | Conspiracy |